Symphony performance hard to top
As the Bakersfield Symphony Orchestra's current season draws to a close--there is one more concert in May--one has to ask: What will the orchestra do for an encore?
The operative word is extraordinary--this season has been just that, as was the 1996-97 season. Over the two years, the orchestra has performed seven world premieres, all of which were commissioned by the orchestra organization. Nobody does that. There also was the special program commemorating Bakersfield-born opera star Lawrence Tibbett.
Sunday's concert at the Bakersfield Convention Center was a case in point. It began with the performance of the fourth of five overtures commissioned by the BSO for the Bakersfield Centennial celebration. The piece, "A Wish to Behold," written by Cal State Bakersfield music professor Doug Davis, was itself an extraordinary achievement, a wonderful combination of intellect and emotion.
Based on the musical constant known as the harmonic series, Davis created a piece that illustrates in him own unique language the duality of the human spirit.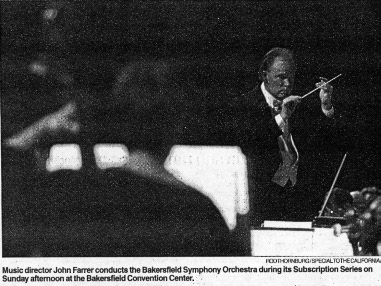 You could readily admire "A Wish to Behold" for its ingenious theoretical construction if you could get past the surpassing beauty and humanity of it. But it wasn't all profundity. Davis' impish sense of humor crept through as he interpolated another musical constant--a quote from "Happy Birthday."
The orchestra was able to meet Davis' composition challenges with a very good performance. The musicians carried on their good work with a fine rendition of Samuel Barber's gorgeous "Adagio for Strings," an excellent follow-up to Davis' work. The strings created a lovely sonority even in the4 Convention Center's acoustical abyss, and only a slight hesitancy near the climax of the piece threatened to disrupt the piece's constant momentum.
The concert then took a complete turn with the performance of two excerpts from Richard Wagner's opera "Gotterdamerung," the final installment of him "Ring" cycle. There big works, with their powerhouse horn parts, made a striking contrast to the more delicate opening selections.
The orchestra's work was not nearly as good here. Especially the horn sections. Which suffered in both intonation and tone quality. As concert works, too, these pieces left a bit to be desired. They refer so completely to the action and characters on stage that they need the accompanying visual element to be fully appreciated.
The orchestra finished with an outstanding performance of the rarely programmed Symphony No. 1 by Robert Schumann. Here every section acquitted itself well: lots of spirit, coordination, attention to detail, and a high degree of musicianship.
Conductor John Farrer said if the money could be raised, a recording of the centennial overtures would be the next logical step.
That would be a fitting encore.